How Many People Play The Lottery
A lottery ticket alone may not cost much, depending on the fields ticked. But if you look at the sums that German gamblers pay the state every year in taxes, lottery is an extremely important and relevant branch of industry.
How many people play the lottery in Germany? A recent Forsa survey on the subject of "gambling" has shown that there is a lot of lottery gambling in Germany: Almost four-fifths of the Germans between the ages of 16 and 65 who took part in the survey have already taken part in a game of chance. Most of them took part in a lottery game, but only those over the age of 18.
Asked about the most popular games, 41 percent stated that "Lotto 6 out of 49" was the first game of chance of their lives, 17 percent named instant lotteries. These include tickets that are sometimes sold in a raffle at a carnival or sold in ticket booths. Private gambling follows in third place with eleven percent. However, this is usually irrelevant for the public purse.
There are 16 lottery companies in Germany, which together generated a total revenue of around seven billion euros in 2013 alone.
Half of all income goes directly back to the respective winners. This means that the payout ratio is 50 percent and at the same time the amount the players regularly speculate on with their betting slips.
Again, 23 percent of the total amount is collected by the tax authorities as special-purpose income. The special-purpose income means that this sum must be spent by the state for a specified purpose. In recent years, these have mostly been sports sponsorships or youth projects. But art purchases or investments in the environment are also part of this.
16.7 percent of the sum goes into the general national budget as lottery tax. The administration is incumbent on the federal states, which are also entitled to the revenues. What remains are the lottery agencies, to which 7.5 percent is transferred as commission for their service. The remaining 2.8 percent will ultimately go to the lottery companies themselves to finance their administration and operation.
To illustrate these sums, here is a small calculation example. If lottery tickets are sold for 20,000 euros, 1,500 euros remain with the receiving office and 3,340 euros go directly to the tax office as the purpose amount. 4,600 euros go as lottery tax to the federal states and 560 euros remain in the lottery company. 10,000 euros are finally distributed to the respective prize classes. Lotto boosts the economy in many ways.
In order to keep a regular eye on market developments with surveys and forecasts, the German Lotto Association has commissioned market research to be conducted and published on a regular basis. According to these sources, for example, 31.5 percent of the German population participated in "Lotto 6 aus 49" in 2011. In the same period, 21 percent of the population participated in "Spiel 77" and/or "Super 6".
In addition to these figures, Lotto is also highly relevant for employees. The state-run lottery companies, with around 23,000 acceptance points (as of 2012) and almost 100,000 jobs, are an equally important factor for the economy.
Negative side effect: gambling addiction as a cost factor
Despite these impressive figures, criticism of the lottery market has also become loud in recent years. This is mainly directed against the state and the opening and liberalisation of more and more providers from the commercial sector.
This means that these companies are allowed to operate outside the lottery companies. Turnover and the creation of new jobs are not everything, admonish critics. It is also about responsibility: gambling involves search risks and requires a conscious approach.
Last year, a total of 326 million euros were spent on inpatient and outpatient treatment for gambling addicts. These are financial losses that should be included in all positive figures.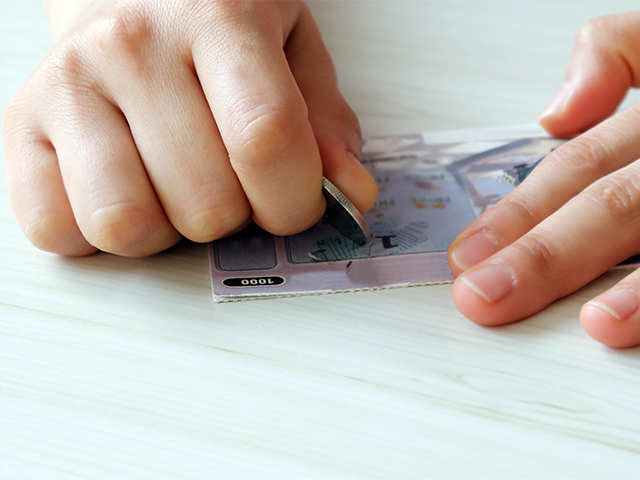 Lotto is for the state more than just gambling!
The 16 lottery companies mentioned undoubtedly make a considerable contribution to the state's economic strength. They finance many areas of the common good and, as employers, offer a great opportunity to create new jobs.
Play responsibly
If you have ever had gambling problems
The most important rule first: stay away from gambling if it has ever had a negative impact on your life. This applies to all games of chance, including seemingly harmless games such as the lottery. If you have problems with gambling, have your provider (e.g. your gaming hall) block you. Forms for this can be found here. Let us also give you professional advice.
Responsible handling of games of chance
If fun in gambling becomes an urge, gambling addiction can develop. The following basic rules will help you to avoid this.
Check your gambling behavior regularly
When does problematic gambling start? This question is usually difficult for those affected to answer. However, there are many signs of excessive gambling. These can often be detected before an addiction occurs. For example, do you feel the need to spend more and more money? Or have you ever lied about your gambling?
To detect problems with gambling early on, use our self-test regularly. In the test, we give you precise feedback on your gaming behavior.
Do not use the game to make money
Whether lottery, casino or betting office: All gambling providers earn a lot of money from their customers. Even if the players win something in between, the providers pay out less money than they receive from the players. At the end of the day, they make a big profit – while the players accumulate higher and higher losses.
Set yourself a limit before playing
How long would you like to play? How much do you want to bet? You should answer these questions before you start playing. If you can't stick to your limit, it's a sign of problematic gambling behavior. In this case, use our self-test to get feedback.
Do not try to make up for previous losses by continuing to play.
If you continue to gamble to win back lost money, this is typical of gambling addiction. Chasing after leads to more losses.
Avoid risky games of chance
These mainly include slot machines, online gambling, sports betting and casino games. There are many reasons why gambling can be risky. One reason for high addiction potential is, for example, a fast game sequence. The sooner the next round starts, the sooner new money can be bet. This can lead to a gaming frenzy. In this state, those affected are no longer in a position to control their playing behaviour. The risks of the various games of chance are described here.
Do not play if you are in a bad mood
If you play under stress and strain, it is very likely that you will spend more money or play longer than you actually wanted. Don't go gambling to distract yourself from problems. This is because you run the risk of gambling itself becoming a problem.
Do not play if you are under the influence of alcohol, medication or drugs.
If you have been drinking or taking drugs, this can significantly lower your inhibition threshold for risky bets. High losses are almost always the result. So only play if you have a clear head.